Author:
ryan
Status
0 Comments
If anyone was wondering, I found my headphones.
Status
0 Comments
That moment, when you're the church accompanist and you start playing the nonexistent third verse.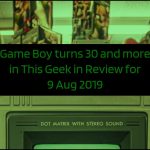 I was never a fan of the original Game Boy, which, to my surprise, did not affect its popularity. I was still an Atari fan, and was rooting for the Lynx. This past April the Game Boy turned 30. One must not underestimate the legacy of the Game Boy, it made casual gaming popular with Tetris being the pack-in. I… Read more →
Status
My car radio is never loud enough for Prince.
Status
Argh! The pop machine is out of Diet Mountain Dew AND Diet Pepsi! #thehorror