Status
I'm watching Christmas Vacation for the 8th time in 2018.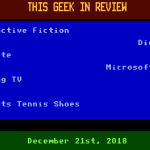 A huge genre of videogames in the 80s and early 90s was the text adventure. Because there were memory and graphic limits on the machines available at the time, the interactive text adventures took a page out of books, and used words to describe the world in the game. These were more than just books, you would have to interact… Read more →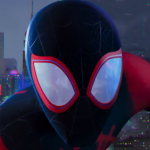 Spider-Man: Into the Spider-Verse is the most visually stunning movie I have seen since Spirited Away. Every frame is a gorgeous piece of art. But, there a lots of things that look good that are pieces of crap, so is the movie any good? You bet your Spider-Verse it is. This is the best Spider-Man movie ever released, and one… Read more →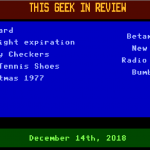 The nets are raging this week over whether or not Die Hard is a Christmas movie. Maybe people raged every year and I didn't know. Anyway, is Die Hard a Christmas movie? Of course, someone had to survey people on this question, and the results overwhelmingly say that Die Hard is not a Christmas movie. Those people are wrong, and to… Read more →
Status
I'm watching Christmas Vacation for the 7th time in 2018.