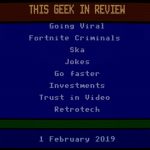 In the beginning of the internet, there was the dancing baby and Crazy Frog. But there was also The Hampster Dance. Here is the history of the iconic song and website. I had no idea that the song came from a Disney movie! Anything that makes money is going to invite a criminal element, including Fortnite. Subscribe to this Youtube… Read more →
Status
Nerds doing homework at Pizza Hut?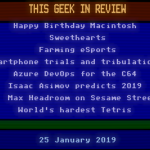 Sure, the mother of all demos celebrated its 50th anniversary last year, but yesterday was the 35th anniversary of the debut of the Macintosh. Most people only remember the Macintosh Super Bowl ad, but it cannot be understated the effect the release of the Macintosh had on the world. At a time when most computers were difficult to use, the… Read more →
Status
The city streets of Kenton are very much improved over yesterday morning.