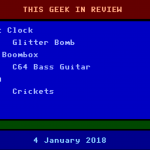 In the beginning, we had analog clocks and we liked them. Learning what the big hand and little hand represents was a huge accomplishment when we were 6. Later came digital clocks, which took a lot of the fun away from learning to tell time. For a time, I was using a binary clock. It was a lot of fun,… Read more →
Status
The map room scene in Raiders would be very boring if it didn't have John Williams' score, which elevates the scene to one of the best in the movie.
Status
Whenever you can, swap "Let's think about it" for "Let's decide on it." Commit to making decisions. Don't wait for the perfect solution. Decide and move forward.
— Rework (pg. 77)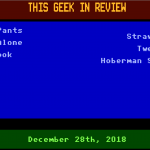 Sometimes, even seven year olds can teach adults a thing or two, especially when it comes to getting clothes at Christmas. In Ontario, a seven year old called 911 after getting snow pants for Christmas. Every year, the city of Gavle, Sweden erects the world's largest straw goat for Christmas, and then spends the rest of the season protecting it… Read more →
Status
Less is a good thing. Constraints are advantages in disguise. Limited resources force you to make do with what you've got. There's no room for waste. And that forces you to be creative.
— Rework (pg 67)
Status
Workaholics miss the point, too. They try to fix problems by throwing sheer hours at them. They try to make up for intellectual laziness with brute force. This results in inelegant solutions.
— Rework (pg 25)
Status
I'm watching Christmas Vacation for the 9th time in 2018.